LiftGEO & Travel Chatbots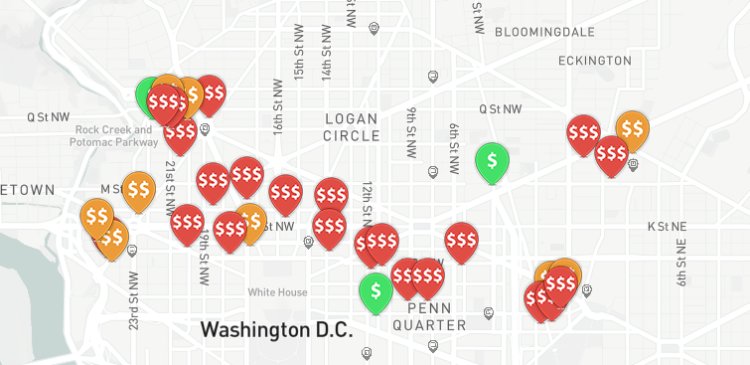 How this husband and wife used Mapbox to boost earnings 53% with custom maps built by LiftGEO
Jeff Howard | Founder @ Travel Chatbots
My wife and I run travel websites, but our travel sites are different. Instead of globe trotting and living our lives on social media we focus on two destinations. Those are Washington, D.C. and NYC.

We help travelers find where to stay in Washington, D.C. by focusing on deep neighborhood editorials and for NYC we mostly focus on helping travelers find hotels near NYC with easy transit options into the city. Typically the people who find our websites are looking for an alternative to expensive downtown hotels and need guidance locating a reputable neighborhood with accommodations. We have been running the sites for seven years and have helped hundreds of thousands of people.

Naturally, maps are an important piece of our website user's experience. For both NYC and D.C. we have created custom public transit maps and for several years relied on Google Fusion tables to power an interactive map that includes a pin for each hotel we feature on the sites. This type of map is important content for our users and can be found on nearly every webpage on our sites.

Last year Google announced it would shut down their Fusion Table program which meant a heavy update on the sites along with finding a new method for us to affordably host and create these critical maps. After searching the market, we ruled out several expensive and enterprise level options. Next, we found some do-it-yourself mapping options which ended up being too basic for our needs. Fianally, we discovered MapBox and a Mapbox developer, LiftGEO who built our maps applications and also host them.

Working with Chris and the team at LiftGEO was excellent, they were responsive and have a few additional creative ideas as we built out the final version of the maps. Once we knew we had the right map expert my wife and I were also excited to get rid of Google Maps once and for all, as we didn't want to promote Google travel products in any capacity.

The first month since moving to MapBox we saw a 53% year over year increase in revenue from our maps. As 2020 has rolled on we haven't seen a slow down in this trend and each month has seen a double ditch increase in map revenue. It's important to point out this is coming at a time in which our revenue is drastically decreasing on the websites as a result of Google sending less traffic into the travel space and our partners devaluing their programs. Right now for us to see any gain year over year is a big win.

MapBox allowed us to make our maps unique and more user friendly. We believe this is the reason behind our jump in revenue. Were also happy to have LiftGEO on our team for minor updates and stable uptime.

To checkout the maps in action you can see them here at the Washington, D.C. website and here at the NYC website.
Jeff Howard | Founder
Travel Chatbots